Copyright Wrentham Parish Council



EVENTS / MEETINGS
________________________________________
THE UNFOLDING STORY
of
WRENTHAM WEST END
at
Sotterley Chapel
Waterloo Rd, NR34 7UA
20th & 21st August
11.00am - 4.00 pm
We know quite a lot about Sotterley and a lot about Wrentham
But What About
Wrentham West End?
What happened to the shop, the forge, the pub up the road?
Where was the original Sotterley Common?
What happened to its lands?
Come and see this free Exhibition
Refreshments will be served
_______________________________
TIME 4 TEA
An open invitation to local people to come to
the Village Hall,
have a chat, a cup of tea/coffee & cake or biscuits,
meet up with friends and make new friends
PARISH INFORMATION
__________________________________________
THE NEW LOCAL PLAN
The NEW LOCAL PLAN can be viewed at www.waveney.gov.uk/newlocalplan
The consultation is aimed at gathering views on levels of housing growth needed up to 2036 and where that growth should be located. It gives an opportunity to have your say on key planning issues such as affordable housing, design, town centres & open spaces. Please take a look and give your feedback direct to WDC. There are no new sites identified in Wrentham, but those in other areas may also be of interest to you. These are only sites that have been put forward following the 'Call for Sites' – this does not mean they will be developed in the future.
The consultation runs until 17th June & a series of public exhibitions are being held – details are all on the WDC website.
_______________________________________________________________
WRENTHAM FIRE SERVICE CONSULTATION
Suffolk County Council have published revised proposals for Suffolk Fire and Rescue Service changes
The revised proposal regarding Wrentham Fire Station is as follows: Maintain Wrentham Fire Station and 8 on-call firefighters, replacing the existing fire engine with a smaller rapid response fire engine
Click on the link below to take you to the Suffolk County Council's website to view the cabinet paper: http://fal.cn/2xPK

________________________________________
PARISH COUNCIL INFORMATION
The next Parish Council Meeting is on Monday 19th September at 7.30pm.
______________________________________________________
WRENTHAM COMMUNITY FORUM
www.facebook.com/Wrentham/?fref=photo
_______________________________________
THE NEW GARDEN WASTE COLLECTION SCHEME
The online payment system for our new garden waste collection service is now live and operational.
For full details visit: www.waveney.gov.uk/gardenwaste
______________________________________
St. NICHOLAS CHURCH (Click HERE for information.)
Services in July:
Sun 3rd 11.00 am HC CW (Revd. Eric Dore)
Sun 10th 11.00 am MP CW
Sun 17th 11.00 am MP CW (Revd. Eric Dore)
Sun 24th 11.00 am MP CW
Sun 31st July 11.00 am Benefice Service HC BCP ( Bishop Norman) at Covehithe.
WRENTHAM CHAPEL (click HERE for information)
______________________________________
THE OUTREACH POST OFFICE
The Outreach P.O. is open in Wrentham Stores on:
Tuesday, Wednesday, Thursday, Friday
10.00 am - 2.00 pm
Wrentham Parish Council strongly urges your use of this important village service. It's future will depend on market viability so it's very much a "Use it or Lose it" situation
_____________________________________________________
COMMUNITY SPEED WATCH
If you would be interested in Coordinating or volunteering please contact the Parish Clerk on 07543919868
______________________________________________________
For Travel Information
(Bus Timetables, Bus Passes, Park & Ride,
Tickets & Fares etc)
go to www.Suffolkonboard.com
______________________________________________________
Wrentham is a village of approximately 1000 persons nestled around a junction on the A12 London/Ipswich/Lowestoft/Gt. Yarmouth trunk road. The junction has roads to Southwold, Beccles and Covehithe. Wrentham is steeped in history stretching back to Saxon times and is mentioned in the Doomsday book. It is a mixture of old and new with some small new housing estates strategically placed so as not to detract from the overall impression of a very attractive village. Click here for more information. Wrentham has some very pleasant buildings and has won the 'Best Kept Village' competition several times in the past. In 2004 Wrentham won the competition for the 10th time and a tree was planted to commemorate this. In 2008 the Village won the Waveney District Area Section again and received a cheque for £200 from Waveney District Council which has been spent on providing a new Notice Board at the Village Hall, also a Cheque was presented for £250 by Beach Radio, Lowestoft as part of their 'Help an East Coast Child' campaign. This was spent on two five a side football goal posts. These have been erected on the football pitch in London Road for use by the younger generation of our Village.
With a core of old Wrentham families plus many new residents it still has a real sense of community.
Wrentham, Suffolk enjoys connections with Wrentham Massachusetts.
The village is well sited for holiday makers wishing to visit the surrounding area, which includes Southwold (www.southwold.info): a quaint old Suffolk seaside resort untouched by time, Beccles (www.beccles.info) a pretty market town, which has excellent boating facilities on the River Waveney, Lowestoft: England's most Easterly point, Covehithe and Oulton Broad, which is also good for boating. Oulton Broad is the most Southerly of the 'Norfolk' Broads, being in Suffolk! It connects to the other Broads and holiday cruisers can be seen here and at Beccles. There is also power boat racing here on Thursday evenings in the summer. Covehithe is a hamlet 2 - 3 miles from Wrentham and boasts a magnificant church, a good proportion of which is a ruin.
Wrentham has good sports and recreational facilities and a prize winning Brass Band. (website: www.wrenthamband.org)

WRENTHAM VILLAGE HALL
To book Wrentham Village Hall or to obtain a key
for a booking please contact:
Angela Day - Tel: 01502 675262
For information on 'What's On' in the Village Hall
[ Pilates, Ladybirds etc. ]
________________________________________
will be hosting evenings of refreshments
(including a glass of wine, beer, lager or tea/coffee)
& FILMS
at 7.00pm
on the last Saturday of every month (except December)
On 30th July the film will be 'The Lady in the Van'
with Maggie Smith
You can find out which films will be shown by sending an email to "whatson@wvhc.org.uk". when a reply email will automatically be sent to you.
For information on facilities for showing films click here
Every
Monday
Morning
10.30 - 12 noon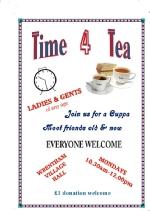 FIRST RESPONDERS
First responders are members of the community who have been trained to attend emergencies (heart attacks etc.).
They are contacted by the emergency services and can usually get to an emergency before the paramedics. Because they are on the spot, they are able to start the crucial recovery process within a very short time.
Coordinator: Mrs Pat Seaman

AROUND & ABOUT
FLOWER FESTIVAL
at
St Lawrence Church, South Cove
Ticketed Preview Evening Friday 29th July
beginning at 6.00pm
Tickets cost £3 inc. Drinks and canapes
and are available from
Alison 01502675610
Alice Eastaugh 07810513125
& Richard & Gill Wood 01502 722861
from 30th July - 2nd August
The Flower Festival & Meadow Sale
is open daily
11.00am - 5.00pm
_______________________________________________
HENSTEAD EXOTIC GARDEN
Address: Henstead Exotic Garden
Church Road, Henstead, Beccles, Suffolk
NR34 7LD
Mobile Number: 07715 876606
Email: andrew.hensteadexoticgarden@hotmail.co.uk
Website: www.hensteadexoticgarden.co.uk
____________________________________
HUNDRED RIVER MAIZE MAZE
Address:: Hundred River Farm,
Valley Farm,
Sotterley,
Suffolk
Tel: : 07519 793320
Website: www.hundredriverfarm.co.uk/category/maize-maze/

Discover your mobile library
Did you know that the Suffolk Libraries mobile library visits your area regularly, giving access to hundreds of thousands of books, including large print, audiobooks and children's books? You can also hire CDs and DVDs for a small charge. If the items you want are not on the van you can reserve them from the library catalogue free of charge and have them delivered on the van at a later date. The staff are very friendly and helpful, and will offer a warm welcome to anyone who visits. The steps convert into a lift for those with limited mobility. This is a valuable service to rural and isolated communities who have lost many of their other local services, and can also be an opportunity to meet up with other people and catch up with the local goings on. Come along to visit us and help to keep this service running for YOUR community – all are welcome! To find out where your nearest mobile library stop is ring Suffolk Libraries Customer Service Helpline on 01473 263838,
email: help@suffolklibraries.co.uk
or visit the
website: suffolklibraries.co.uk/community-services/mobile-libraries.